Here are the feedback from some of our visitors who were kind enough to get back to us and spare some time to write us some feedback about Iran Travel Service and about their visit to Iran in general.
Your comments are valuable both to us as your Iranian travel host and to other tourists who would like to visit Iran. In fact, they can get a true image of and Iranian life through your eyes.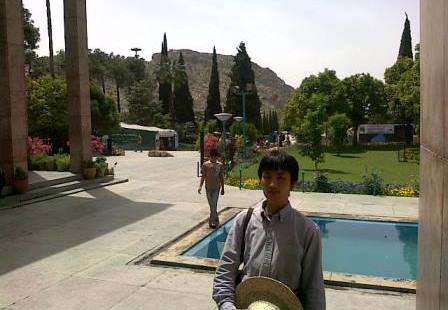 Hi,
Thank you for all the arrangements and also at Shiraz.
I feel I must convey my thought on the country to any audience I can find.
I've shown my pics to some of my friends, and they actually said it alters their image over the country.
Yu Ichino, Japan, March 2011
From the moment we set foot in Iran we felt welcomed and all our needs were provided for by Mojtaba and Iran Travel Services. The tour took us to all our cities and areas of choice. Iran Travel Services gave us a choice between a guide who would take us through our entire holiday or, alternatively, local guides for each area we visited. We chose local guides for each area. All of our guides were highly fluent in English and each possessed an incredible depth of knowledge and brought alive the history, culture and architecture of each area we visited. In particular, Mohammed in Isfahan was incredibly gracious and knowledgeable, he showed us a side of Iran that would be impossible for a tourist to appreciate without his expert guidance and insight. Mansoureh was another of our guides and her knowledge, charm and wit made our time with her a pleasure. Mojtaba and his lovely wife Maryam kindly invited us to visit their house, where Maryam made us a delicious feast of traditional Iranian dishes, and we spent a wonderful evening of excellent conversation and fine food with them.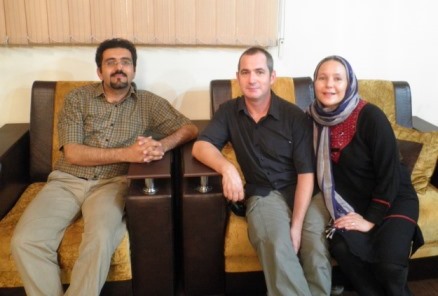 The kindness and hospitality we received throughout our journey in Iran was amazing and I would absolutely recommend Iran Travel Services for a tour that provides a fantastic insight into Iranian culture and heritage, and a wonderful holiday. I'd like to thank Mojtaba, his beautiful wife Maryam and all of the lovely people we met in Iran for making our trip such a delightful and memorable experience.

Chris and Adrian Gough, Umina Beach, Australia, March 2011
I was very lucky to get in contact with Iran Travel Service. They
quickly arranged so that I could get a good hotel In Tehran. They
helped me out with transport to the hotel as well.
Later I got a guided tour around Tehran which was both fun and
informative.
Both the guides and the coordinators spoke excellent english.
Emil Våhlström, Sweden, June 2011
Hello Mojtaba, Didn't get a chance to thank you for all the travel help and arrangement while we were in Iran. It was an awesome and memorable trip for everyone. From arranging the flight to Shiraz, the trip to Persopolis, the bus arrangement to Esfahan and back to Tehran, it couldn't have gone any better. Sadly, we all wished that we could have stayed much longer. Hopefully, we can make another trip in the near future. Thank you again and hope all is well.
Hans Go/Haideh and Family. USA, June 2011
Salam Mojtaba,time to put some feedback after our tour de persia.
people
very kind, nice and helpful even with no English. Very curious. It was impossible to hide in the crowd in a bazaar without answering where we are from several times a hour. Yes we felt strange with everyone staring at us almost everywhere. We met some young Iranians with better English who were trying to pass to us the present social/political/economic situation of your country.
In Esfahan after being invited one night by an Esfahani family to their home for dinner next day, we spent just amazing time with them. With dancing, playing keyboard, chatting and singing :)
it will stay with us forever.
security
we felt safe everywhere maybe becuase of our unconciousness. Even Kerman at night was ok. The only place sth might have happen was the Old City in Shiraz when we got lost in the maze near the hotel and were guided by a civil cop on the bike( he of course knew we were from Niayesh). We had the impression our every move was controlled and watched and as we weren't trying to rise any riots it was ok.
women
it was just shocking to see almost all girls and women hidden under black tents. Very few women working. The girls are good-educated, brave, open-minded and so pretty.
we saw a small part of your country.It was like a drop. But we liked it so much! We missed Iran just when we landed in Warsaw. We are sorry we can't speak farsi- with no language it's impossible to know the real life. Next time we'll speak a little :) I know I have to talk about Iran to as many friends as possible. Iran and Iranians are worth a better treatment from the Western World.
take care
Michal Skokowski, Poland, July 2011
Hi ,
Thanks for your email. We had a really great time and very much enjoyed your
beautiful country.
We were very satisfied with your company and the services and also our tour
guide was excellent. Please thank her again for everything.
Best regards,
Karen McAuley, Ireland, August 2011
I got in touch with ITS thru an indication on a travel forum. Was in need
of quick and effective responses since I was about to reach Iran and my
previous agency was messing up a bit. What impressed me was the quick
timing in getting answers back from my queries, which was a lot by the
way. It sounded a little different, for me at least, to pay the all the
service when I reached Iran, totally different from other institutions
whose want you pay half way ahead, when not the whole to half of the pay
if not the whole thing upfront. I would like to thank and congratulate IT
for its professionalism and personal touch: Mojtaba took his personal time
to give me tips and guidance on how to make the best of Shiraz. It is
really worth"
Luis Paulino, Brazilian, September 2011
I just arrived back in the states and I want to thank you for an excellent trip to Iran. I feel like I got to see so many different parts of your country, yet I heard so much about the places I was unable to go to. In the North the weather didn't always cooperate and I think it isn't the optimal season for tourism there. Also there was some problem with accomodations, it seems that hotels don't want to rent rooms to single men. In mosaleh on the morning of the last day we had some great sunshine and I was able to really take in the beauty of the city. In the end I was able to find a carpet in tehran (on my last day)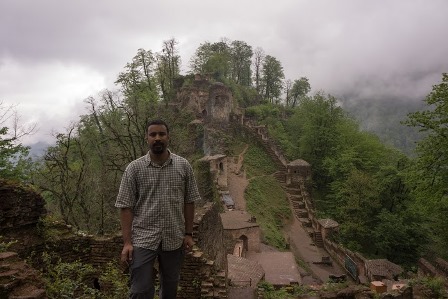 Both Mustafa and Yasna were great guides and gave great explanations about the people and places of Iran. I want to take a moment to single out the performance of Yasna. She was an incredible tour guide who went above and beyond. While many in the west may view iran as a monolithic society, I learned about a different (and not so small) side of iran from conversations with Yasna and description of her daily life and routines. More than anything Yasna made the tour fun and enjoyable for all. My overall experience in Iran was definitely enhanced by her professionalism and performance. Please share this with Reza and all concernd.
Still thinking about Damavand so maybe you will see me sooner than later.
Srikant Bikadi, USA, April 2013
I just wanted to let you know, that everything went fine with our train trip from Yazd to Teheran. Also, I wanted to thank you again for the help and splendid organization from you part. Thank you very much.
I am already looking forward to my next trip to Iran and would be glad to book tickets through your company again.
All the best.
Reto Wasler, Germany, April 2013
I want to say a big thank you for all you did for us on our holiday. When I started looking into Iran for a holiday people thought I was crazy. It was a lot of work to get a visa, sort out where to go and how to get around. More than other countries I have visited, all 45 of them! For a while I thought I actually was crazy. When I realised we were arriving in the middle of the biggest holiday of the year, I thought it would be best to ask for some help. That is where you came in. You had a tough task - it was holiday time and the time of year when prices increase. You also took a gamble on us when we could not transfer the money through to you. For that, I say a big thank you. That was truly kind and was just the start of our amazing experience with the people of your country. The hotels were great, the tour was great and your service was incredible!
The tour was great. Choqa Zanbil is an amazing building. It is almost unbelievable how old it is!
Our tour guide was very informative. She has studied architecture and so has my husband Mitchell so they got on very well. She answered all our questions. The driver was also good. As far as timing goes I think it had the right amount of time everywhere, but maybe you could see more in shushtar than just the hydrolic system. It seems there is so much more to see there.
Amy Douglas, New Zealand, April 2013
If you want to discover Iran you should trust the guys from Irantravelservice and you can enjoy your trip free of stress. They are reliable English speaking professionals who can help you with information, bookings etc. But this is only the practical side - I feel more like having a really good friends in the beautiful city of Shiraz, where they come from. Thank you, Mojtaba!
Aivar Valdre, Estonia, March 2013
We definitely enjoyed our stay in Iran and your services was a big piece to the success of our journey.
As I said earlier Amin was really easy going and nice person to deal with. Also he went extra mile by helping us with the language, taking pictures of us and making sure we are fine all the time.
Communication with you was great and professional in all matters. You are defiantly going above US/EU standards of providing services. Also I really appreciate that I could reach you at any time with any question.
Thank you,
Petr Passinger, April 2013
Hi, Thank you for your e-mail. I would like to thank you for your services and inform that our trip to Iran ran very well and we had absolutely no problems.
Iouliia Skliarova, Portugual, May 2013
Mojtaba,
Thank you from the bottom of my heart for all the work you put into
organizing my train trip from Tehran to Ankara, The trip was fabulous
as were the marvellous people who were travelling with me. It was
really the highlight of a great trip.
The Persians that I met during the weeks that I was in your country
were incredibly helpful, kind and considerate and have turned me into
an unofficial, tourism ambassador for Iran.
Your efforts were deeply appreciated.
Kind regards,
Ian Meikle, Australia, May 2013
Iran travel service is excellent; efficient and very helpful. I am a older women travelling alone
I have used them for 58days 26days car driver I decided places Iwanted to visit and able to chose the type of hotel to stay in. Price no different from an group organised tour.
A trip without stress able to phone Mojtaba anytime night or day or email with quick reply.
Visa application went smoothly and quick
I cannot recomend him highly enough.
Marie, Brisbane, Australia, Sept and Oct 2013
Dear Mojtaba
Most things went really well on my trip, and, at this stage, I am planning a return around the same time of the year 2014, if I can. I would like to visit more desert places, and connect more with nomads. That's my love, the simple life, not city life. Also, I never got to taste the pomegranate and walnut sauce. . . have to come back for that!

It was very very special for us to meet you and Maryam too: shopping and dining together. I will be looking for a recipe that will show how to make that delicious olive dish.

It was a wonderful day, at Pasargadae and Necropolis and Persepolis too, especially with your explanations. It has fired my interest to read more about it. History was my worst subject at school and I have a lot of catching up to do.

I enjoyed our conversations, philosophising, in the car too.
With very best wishes to you
Helen, Brisbane, Australia October 2013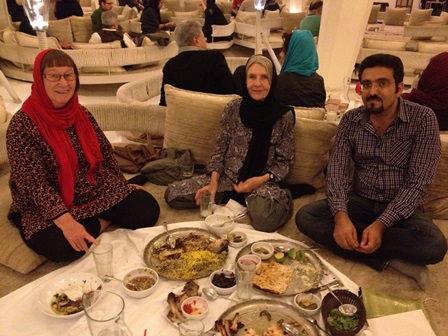 It was very nice to meet you too, after all these e-mails. That afternoon changed our opinion of Shiraz. Eram Garden was a really lovely place.
We had a very nice tour in Iran. It fulfilled all our expectations! And you made it a lot easier to travel around the country. All Iranians we met were very friendly and welcoming. No one tried to do us any harm or cheat us. We really enjoyed the landscape and the architecture of Iran.
The driver from Kermanshah to Isfahan was a friendly and very good driver. Of course the trip would have had a different dimension if he was English spoken. If he spoke English we may be could have been able to find some elderly people who could remember things from when the road was made?
The driver from Sirjan to Kermanshah was excellent! We had a very nice time together with him. We hired him for the next day too. And he took us to the desert, to an old caravanserai and a quanat. That was a really bonus day!!!
We are very grateful that everything went so well!
Thanks again.
Jørn and Anne Mette, Norway & Denmark ,April 2014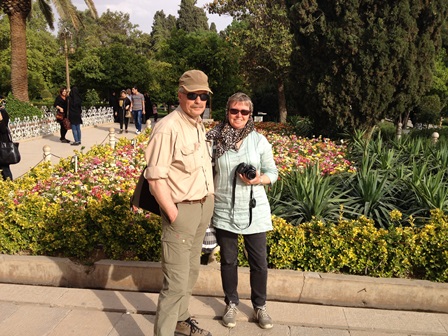 I had a very positive experience with Iran Travel Service. My wife and I (Americans) just returned from a 9 day custom tour of Iran through this agency. Mojtaba was able to get our authorization codes fairly quickly and responded to my frequent emails timely and informatively. Our guide, Mehdi, was excellent. He was very friendly and professional. As Americans we were required to have a guide, but we didn't feel like we were being 'minded' at all. All and all it was a great trip and I would recommend them.
Jeff, New York, USA, June 2014