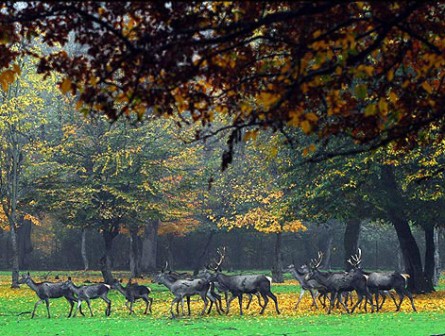 For those interested in green eco-tourism, Jungles of the north and twisty road of Chaloos are most commonly known tourist destinations. But Iran is such a big and vast and there are still many areas less known. A bit further to the North-east you will some even more beautiful and amazing forests. There are several parks and intact jungle which are dream destinations such as Golestan and Gorgan impressive jungles.
Naharkhoran is located just few kilometers far from the city of Gorgan so the access is very easy. You can go camping for budget but there are many guesthouses and hotels for staying at night so accommodation is no big deal.
Alangdare is another amazing Jungle a few km south of Gorgan which is also very beautiful for visiting and trekking.
Golestan national park is the biggest natural park in Iran which covers an area of 90 sq. acres. Golestan national park is located 150 km east of Gorgan, 55 km to the east of Gonbad. Another access is 115 km to the west of Bojnourd. One of the nearest access routes to get to Golestan national park is through Minoodasht which is located just 45 km on the east of Golestan national park.
This park is famous as the habitat of many birds and animals and hosts a diversity of rare species. It is such an intact area which was nominated to UNESCO to be considered as one of the world natural Habitats. There are a number of rivers, springs and waterfalls in the area. Golestan waterfall and Aghsoo waterfall are two of the most beautiful waterfalls located in Golestan national park.
There is a nice Touristy place near Kolaleh Village beside Golestan National Park called Boom Kolbeh (a traditional house) which is also nice to visit and stay at. You can enjoy and experience living with Turkmans life and get acquitted with their customs and beauties.
If interested in trekking in the green Eco-tourism of north of Iran, try visiting one of these wonderful places especially during the warmer month of the year. Don't miss the opportunity.