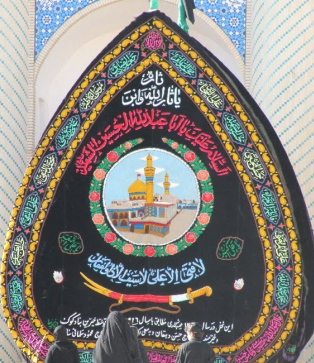 One of the important aspects of tourism in each country is its cultural features such as local traditions, feasts and rituals. Iran is quite rich in its cultural qualities, customs and religious rituals. Iran, as a Moslem country, has many religious ceremonies and rituals rooted in Islam. While there are many old customs originating in Zoroastrianism, Islamic rituals have enjoyed a lot of popularity both due to the majority of Moslem population and uniqueness of the customs per se. Iranian-Islamic rituals are indeed unique as they have blended both Iranian and Islamic cultures.  With Shiite majority, Iranians have developed many rituals related to commemorating Shiite Imams. Imam Hussein is the third Imam (leader of Shiites) who was killed unfairly and brutally by some Arab tyrants of the time. Even after 14t centuries, the innocence and brevity of Imam Hussein and his fellowmen dominates the Shiites culture.
Every year the Shiites round the world commemorate his sorrowful and unfair martyrdom by mourning for 10 consecutive days at the beginning of the first month of the Lunar year, Moharam. The 10th day is called Ashura which marks the martyrdom of Imam Hussein in Karbala (Iraq).
There are a number of rituals held in this period among which Ta'zieh and Nakhlgardani seem very interesting to many visitors as they depict some aspects of Ashura events. Ta'zieh is a kind of street theater which narrates the story of martyrdom of Imam Hussein and his followers and the sufferings of their family members. The narration and laments are so emotional that impress all the audience even the foreigners who may not know much about the sufferings of Imam Hussein and his family.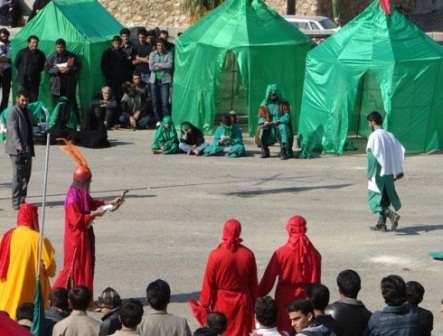 Nakhl Gardani (carrying the palm tree) is another mourning custom on Ashura. This one is uniquely held in central Iran particularly in Yazd city and nearby towns. Nakhl is a gigantic wooden structure like a leave and has nothing to do with a palm. It is covered with a black cloth and decorated with daggers, swords and other ornaments. Many believe that it refers to tents of Imam Hussein family. Others say this is a symbolic funeral as the martyrs were buried without any ceremony or proper respect.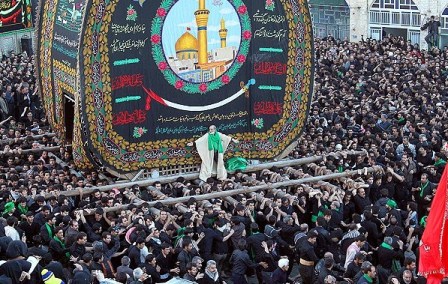 The name Nakhl (palm) perhaps refers to raised stature of martyrs. Sometimes the Nakhl is so huge and heavy that requires more than 50 people to lift and carry it. During one week, the senior and elders decorated the Nakhl, cover it with different ornaments and picture of lion covered with blood. The lion is symbol of the Imam and the daggers are symbol of the swords lunged into his body. Finally, on the 10th day hundreds of people gather and help in lifting the Nakhl and carrying it around. A man standing on the nakhl hits the cymbal and laments while others carry the Nakhl around a holy shrine 3 times.
The Moharam mourning period begins November 25, 2011 this year and Tasooa (the 9th day) and Ashura (the 9th day) are national holidays. If you happen to be in Iran in the first week of December, do not miss the chance!
Enjoy a walking tour of Yazd and watch Nakhgardani and (Ta'zieh) street theater on Ashura (December 6th 2011) for 40 $! Just drop us a line!