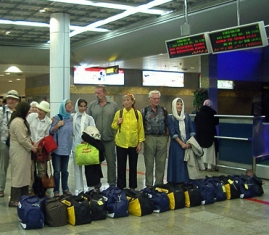 Safety is certainly the first thing to consider when traveling to another country. But how can we make sure it is safe to travel to a place or not?
I always believe a word of mouth is a better proof than what you hear from media or official sources. That is especially true when talking about some Middle East courtiers such as Iran that have strong differences with the west these days.
You can never get the whole truth from the media on either side. So the best thing to do is to discuss these issues with the locals and the tourists who have already traveled to places such as Iran.
Generally, there are no significant reports of crimes against tourists in Iran. In fact, it has been quite safe in the past couple of years. While some governmental sites in the west advice tourists not to go to Iran, they give no specific reason other than a few English tourists being arrested for spying allegations. Probably, it is true that you will be in trouble in case you are arrested for spying. That is a serious breach of Law in any country and the consequences can be quite serious anywhere around the world.
But how many tourists really get involved with such issues?
Normal touristy visits do not raise any suspicions. So let's not focus on this. Serious problems a tourist may face are kidnapping, rape and theft which are considered typical safety issues in a country.
With regard to such safety problems, Iran is quite a safe country, not just in the region but in the world. Tourists traveling in packages have never faced a problem. Even individuals who take the safety precautions seriously rarely face such hazardous situations. If there is any related news, I believe it is not difficult to get informed because the media quickly reports on issues related to countries such as Iran. Perhaps there is a simple explanation; the tourists who travel to Iran usually try not to go off-limits. They are more cautious when getting around and take safety warnings more seriously. These are the factors that help you everywhere around the world not to get yourself into trouble. It is exactly the same for Iran. If you avoid going to cities near the border of Afghanistan, if you travel in groups and avoid going to deserted areas by yourself, then Iran is one of the safest places in the world. There are a number of news sources on the net where you can find information about touristy problems in Iran but certainly you do not find many instances. The people are hospitable, kind and helpful to both native and foreign visitors. The youngsters who know English are fond of talking to tourists and exchanging information especially with European ones. Therefore, I believe traveling to Iran can be as safe as traveling through your own city if you follow the safety precautions and avoid going to some risky areas that are likely to get you in trouble.
Your views will be precious to all those travelers who are interested in visiting Iran. If you have already traveled to Iran, then share your experience and let everyone know about the possible concerns.