Chaharshanbeh Souri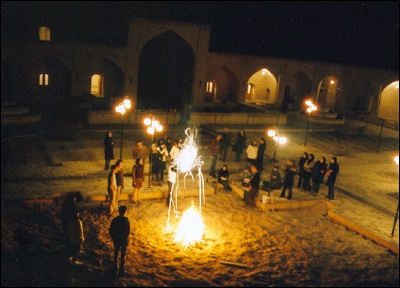 Some tourists have been asking me about New Year festivals and are interested to know if there are such things as festivals, or carnivals in Iran.
Actually, there is nothing like western festivals or the Chinese one. That was the answer I once gave to a tourist. Suddenly, it rang a bell. In fact, there is one called Char Shanbe Souri"
Although, a very old custom, I am sure a few tourists might have heard of it.
"Char Shanbe Souri" has been observed by Iranians for years despite the government's dislike for such a celebration. The word itself means the celebration of Wednesday. (that is the night before the last Wednesday of the year). Every year, people gather in the street or in the gardens or in the outskirts of the city and observe this festival on the last Tuesday's night.
Some concepts behind it are similar to the day of the dead. I don't which one is actually more ancient. But this one must be older as it roots in Zoroastrianism. Also, there was a similar custom "fire log" in some parts of Europe in the past.
The core of this celebration is setting up a bone fire and then the rest begins. The belief in fire and its purification power certainly comes from Zoroastrian ideas. People gather around the fire, sing a special song and jump over the fire.
(the belief is that this will dispel the evil spirits around and brings in goodness instead.)
In more intimate gathering in gardens, they dance and eat. Using fireworks and firecrackers is an indispensable part of the festival.
But in recent years, police has stopped people from observing this on the streets because of the problems and injuries that it causes. (Some say it has other reasons such religious ones)
Generally, firecrackers have caused a lot of injuries and they have been banned in Iran. However, they are still smuggled into the country and people buy them and use them. I guess the practice has sometimes gone to extremes and the police was right about firecrackers. I do not like them either. But the general ceremony and fireworks, singing and dancing is so nice even on the streets. I hope the government would organize places for this, not very much far from the city and people would enjoy this.
It is very special occasion because there are no other festivals that Iranians gather in the street and celebrate. (at least nothing in modern days). So, if you happen to be in Iran on that date (March 15th this year), ask your guide or an Iranian friend to take you to a private celebration, you will love it.
Warning: DO NOT try the public ones in the streets; it can be dangerous especially this year because of demonstration! DO NOT go off on your own either on this day this year!!!