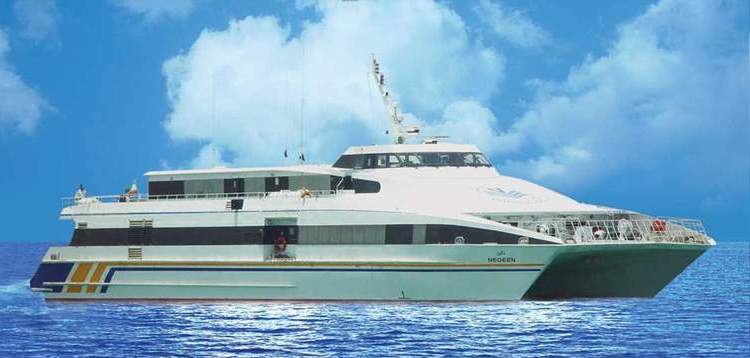 Iran Ferry
Ships commuting between Iran major ports and other Persian Gulf countries are another cheap but efficient way for traveling. If you are residing in one of these countries or if visiting them and intend to travel to Iran, don't miss the voyage through Persian Gulf. Although it may take longer, we recommend traveling by ship or ferry to those interested.
It usually takes about 5 hours on the sea and you spend just half the price of a plane ticket.
For those interested in traveling on a cruise ship in the Persian Gulf, ITS ship and ferry service is the best option.
Travel safely and comfortably from Kuwait, Qatar and UAE (Sharjah or Dubai) on a voyage to Bandar Abbas, Khoram Shahr, Bushehr and Bandar Lengeh; an exciting voyage, that is safer and much cheaper than flying.
Here are the routes:
Schedule updated Oct-Nov 2014
| | | | | |
| --- | --- | --- | --- | --- |
| Departure | Destination | Schedule | Return Schedule | departure time |
| Bandar Abbas | Sharjah (UAE) | Sat-Mon-Wed | Sun-Tues | 21:00 |
| Bandar Lengeh | Dubai (UAE) | Sun-Tues | Mon-Wed | 10:00 |
| Bandar Lengeh (Cruise ferry) | Dubai (UAE) | Mon-Wed | Sun-Tues | 11:00 |
| KhoramShahr | Kuwait | Sat-Wed | Sun-Thurs | 11:00/10:30 |
| Bushehr | Kuwait | N/A | N/A | N/A |
| Bushehr | Qatar | N/A | N/A | N/A |
| Khoramshahr | Basra (Iraq) | usually Mon/Tues | Mon/Tues | 9:30/12:00 |
Also taking a trip to Kish and Qeshm Island can be very exciting by ferry. If you are planning to visit these Islands, daily services are available both for passenger and car transportation mainly from Bandar Abbas to Qeshm and from Bandar Lengeh to Kish Island.
Just let us know your departure and leave the booking to us, then all you have to do is to take your time and enjoy your trip on the sea.
Update 2014- March 2015

Traveling from Iran to Persian Gulf countries has become a very convinient and cheap option. Most ferry currently cost about 60 US$ -economy class. The ferry have only seats in both classes.
Which is a deal in comparison to plane.
Currently, it is not possible to book inbound ferry tickets from Inside Iran.