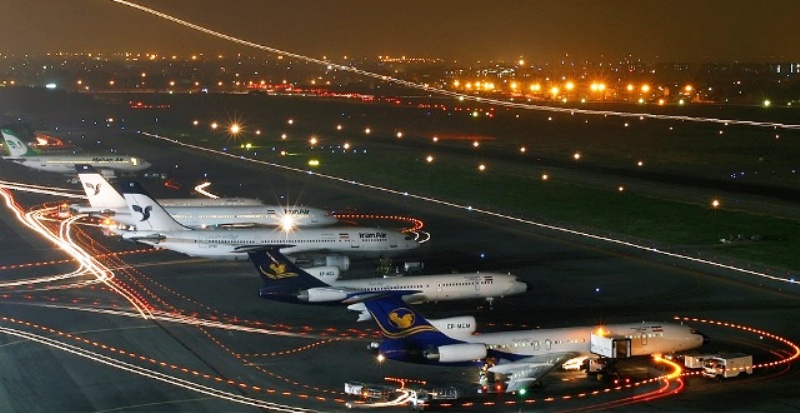 Iran flight
With a great number of international flights, flying to Iran is the easiest and fastest option. Reserving and purchasing any ticket is possible through ITS services. You can fly to Iran directly from most major cities in the world and by indirect flights from many others. Iran has several airliners which fly more than 45 international flight routes. Besides, there are global airliners with frequent flights to Tehran and to some of the other major airports. To name just a few, Emirates, Gulf Air, Air Arabia, Air Asia, Lufthansa, Alitalia, Swiss, Turkish Airlines, Air France, Air India, Austrian Airlines all offer direct or indirect flights to Tehran.
Just let us know about your plan, origin and destination. Shortly, we will suggest you the best possible way or we can reserve tickets and organize everything afterwards.
Check ITS comprehensive flight schedule including arrivals and departures to/from Iran.
Below is a table of international airliners and the routes currently available to/from four major Iranian airports: Tehran (IKA), Shiraz (SHZ), Tabriz (TBZ), Mashad (MSD).
You can personally check the airliners timetable or possibly contact your domestinc carrier or just fill in the request form and leave it to us.
Relax! ITS will do it in less than 24 hours.
| | | | | |
| --- | --- | --- | --- | --- |
| Airliner | from | to | to | to |
| Gulf/Turkish/Qatar | Abu Dhabi | Tehran | Mashad | Tabriz |
| Emarates | Accra | Tehran | ***** | ***** |
| Gulf/Turkish | Adana | Tehran | ***** | Tabriz |
| Emarates | Addis Ababa | Tehran | ***** | ***** |
| Turkish | Adler/Sochi | Tehran | ***** | ***** |
| Emarates | Ahmedabad | Tehran | ***** | ***** |
| Gulf Air | Al Ain | Tehran | ***** | ***** |
| Turkish/Qatar | Algiers | Tehran | Mashad | Tabriz |
| Gulf/Emarates/Qatar | Amman | Tehran | Shiraz | Mashad |
| Turkish/Emerates | Amsterdam | Tehran | Tabriz | ***** |
| Turkish | Ankara | Tehran | Tabriz | ***** |
| Turkish | Antalya | Tehran | Tabriz | ***** |
| Gulf/Turkish/Emarates/Qatar | Athens | Tehran | Shiraz | Mashad |
| Emarates | Auckland | Tehran | ***** | ***** |
| Gulf/Jazireh/Emarates/Qatar | Bahrain | Tehran | Shiraz | Mashad |
| Emarates/Qatar | Bangalore | Tehran | ***** | ***** |
| Gulf/Emarates/Qatar | Bangkok | Tehran | Shiraz | Mashad |
| Turkish/Qatar | Barcelona | Tehran | Mashad | Tabriz |
| Turkish | Basel | Tehran | Tabriz | ***** |
| Turkish | Batumi | Tehran | ***** | ***** |
| Emarates/Qatar | Beijing | Tehran | ***** | ***** |
| Gulf/Jazireh/Emarates/Qatar | Beirut | Tehran | Shiraz | Mashad |
| Turkish | Belgrade | Tehran | Tabriz | ***** |
| Turkish | Benghazi | Tehran | Tabriz | ***** |
| Turkish/Qatar | Berlin | Tehran | Mashad | Tabriz |
| Turkish/Emarates | Birmingham | Tehran | ***** | Tabriz |
| Turkish | Bodrum | ****** | Tabriz | ***** |
| Turkish | Bologna | Tehran | Tabriz | ***** |
| Emarates/Etihad | Brisbane | Tehran | ***** | ***** |
| Turkish/Qatar | Brussels | Tehran | Tabriz | Mashad |
| Turkish | Bucharest | Tehran | Tabriz | ***** |
| Turkish/Qatar | Budapest | Tehran | Mashad | Tabriz |
| Qatar | Buenos Aires | Tehran | Mashad | ***** |
| Gulf/Turkish/Emarates/Qatar | Cairo | Tehran | Shiraz | Mashad |
| Emarates/Qatar | Cape Town | Tehran | ***** | ***** |
| Turkish/Emarates/Qatar/Etihad | Casablanca | Tehran | Mashad | Tabriz |
| Qatar | Cebu | Tehran | Mashad | ***** |
| Gulf/Emarates/Qatar | Chennai | Tehran | Shiraz | ***** |
| Turkish/Etihad | Chicago | Tehran | Tabriz | ***** |
| Turkish | Chisinau | Tehran | Mashad | Tabriz |
| Gulf/Qatar | Chitagong | Tehran | Shiraz | ***** |
| Emarates | Christchurch | Tehran | ***** | ***** |
| Turkish | Cologne | Tehran | Mashad | Tabriz |
| Gulf/Emarates/Qatar | Colombo | Tehran | Shiraz | Mashad |
| Turkish/Qatar | Copenhagen | Tehran | Mashad | Mashad |
| Turkish/Emarates | Dakar | Tehran | Mashad | Tabriz |
| Turkish/Gulf/Jazireh/Emerates/Qatar | Damuscus | Tehran | Shiraz | Mashad |
| Gulf/Emarates/Qatar | Dammam | Tehran | Shiraz | Mashad |
| Emarates/Qatar | Dar es Salaam | Tehran | Mashad | ***** |
| Gulf/Emarates/Qatar | Delhi | Tehran | ***** | ***** |
| Qatar/Etihad | DenPasar bali | Tehran | ***** | ***** |
| Gulf/Emarates/Qatar/Etihad | Dhaka | Tehran | Shiraz | ***** |
| Turkish | Dnepropetrovsk | Tehran | Mashad | Tabriz |
| Gulf/Emarates/Qatar | Doha | Tehran | Mashad | ***** |
| Turkish | Donetsk | Tehran | Mashad | Tabriz |
| Gulf/Jazireh/Emarates/Qatar | Dubai | Tehran | Mashad | Mashad |
| Turkish/Etihad | Dublin | Tehran | Mashad | Tabriz |
| Emarates | Durban | Tehran | ***** | ***** |
| Turkish | Dusseldorf | Tehran | Mashad | Tabriz |
| Emarates | Entebbe | Tehran | ***** | ***** |
| Gulf/Turkish/Emarates/Lufthansa/Qatar/Etihad | Frankfurt | Tehran | Shiraz | Mashad |
| Turkish | Gaziantep | Tehran | Mashad | Tabriz |
| Turkish/Qatar/Etihad | Geneva | Tehran | Mashad | Tabriz |
| Turkish | Gothenburg | Tehran | Mashad | Tabriz |
| Qatar | Gova | Tehran | ***** | ***** |
| Emarates/Qatar | Guangzhou | Tehran | ***** | ***** |
| Turkish/Emarates | Hamburg | Tehran | Mashad | Tabriz |
| Qatar | Hanoi | Tehran | ***** | ***** |
| Turkish | Hannover | Tehran | Mashad | Tabriz |
| Turkish | Helsinki | Tehran | Mashad | Tabriz |
| Qatar | Hochi Minh | Tehran | Mashad | ***** |
| Emarates/Qatar | Hong Kong | Tehran | ***** | ***** |
| Emarates/Qatar | Houston | Tehran | Mashad | ***** |
| Emarates/Qatar | Hyderabad | Tehran | ***** | ***** |
| Gulf/Emarates | Islamabad | Tehran | Shiraz | ***** |
| Turkish/Emarates | İstanbul | Tehran | Shiraz | Mashad |
| Turkish | İzmir | Tehran | Mashad | Tabriz |
| Emarates/Qatar/Etihad | Jakarta | Tehran | ***** | ***** |
| Gulf/Emarates/Qatar/Etihad | Jeddah | Tehran | Shiraz | Mashad |
| Emarates/Qatar/Etihad | Johannesburg | Tehran | ***** | ***** |
| Gulf/Emarates/Qatar | Karachi | Tehran | Shiraz | ***** |
| Gulf/Qatar/Etihad | Katmandu | Tehran | Shiraz | ***** |
| Gulf/Emarates/Qatar/Etihad | Khartoom | Tehran | Shiraz | Mashad |
| Turkish | Kiev | Tehran | Mashad | Tabriz |
| Gulf/Emarates/Qatar | Kochi | Tehran | Shiraz | Mashad |
| Etihad | Koh Samui | Tehran | ***** | ***** |
| Emarates | Kolkata | Tehran | ***** | ***** |
| Turkish | Konya | Tehran | Tabriz | ***** |
| Emarates/Qatar | Kozhikode | Tehran | Mashad | ***** |
| Gulf/Emarates/Qatar/Etihad | Kuala Lampur | Tehran | Shiraz | Mashad |
| Emarates/Qatar/Jazireh | Kuwait | Tehran | Mashad | ***** |
| Turkish/Emarates/Qatar | Lagos | Tehran | Mashad | Mashad |
| Gulf/Emarates/Shaheen | Lahore | Tehran | Shiraz | Mashad |
| Emarates | Larnaca | Tehran | ***** | ***** |
| Turkish | Lefkoşa | Tehran | Tabriz | ***** |
| Turkish | Lisbon | Tehran | Mashad | Tabriz |
| Turkish | Ljubljana | Tehran | Mashad | Tabriz |
| Gulf/Turkish/Emarates/Lufthansa/Qatar/Etihad | London | Tehran | Shiraz | Mashad |
| Emarates | Los Angeles | Tehran | ***** | ***** |
| Emarates | Luanda | Tehran | ***** | ***** |
| Qatar | Luxor | Tehran | Mashad | ***** |
| Turkish | Lviv | Tehran | Mashad | Tabriz |
| Turkish | Lyon | Tehran | Mashad | Tabriz |
| Turkish/Emarates | Madinah | Tehran | Mashad | Tabriz |
| Turkish/Qatar | Madrid | Tehran | Mashad | Tabriz |
| Qatar | Maldives | Tehran | Mashad | ***** |
| Emarates/Etihad | Male | Tehran | ***** | ***** |
| Emarates | Malta | Tehran | ***** | ***** |
| Turkish/Emarates/Qatar/Etihad | Manchester | Tehran | Mashad | Tabriz |
| Gulf/Emarates/Qatar/Etihad | Manila | Tehran | Shiraz | Mashad |
| Emarates | Mauritius | Tehran | ***** | ***** |
| Emarates/Qatar/Etihad | Melbourne | Tehran | ***** | ***** |
| Turkish | Merzifon | Tehran | ***** | ***** |
| Turkish/Emarates/Qatar/Etihad | Milan | Tehran | Mashad | Tabriz |
| Turkish | Minsk | Tehran | Mashad | Tabriz |
| Turkish/Emarates | Moscow | Tehran | Mashad | Tabriz |
| Gulf Air | Mumbai | Tehran | Shiraz | ***** |
| Turkish/Emarates/Qatar/Etihad | Munich | Tehran | Mashad | Tabriz |
| Gulf Air | Muscat | Tehran | Shiraz | ***** |
| Emarates/Qatar | Muscat | Tehran | ***** | ***** |
| Etihad | Nagoya | Tehran | ***** | ***** |
| Emarates/Qatar | Nairobi | Tehran | Mashad | ***** |
| Turkish/Emarates/Qatar/Etihad | New York | Tehran | Mashad | Tabriz |
| Turkish/Emarates | Nice | Tehran | Mashad | Tabriz |
| Turkish | Nuremberg | Tehran | Mashad | Tabriz |
| Turkish | Odessa | Tehran | Mashad | Tabriz |
| Emarates/Qatar | Osaka | Tehran | ***** | ***** |
| Turkish | Oslo | Tehran | Mashad | Tabriz |
| Gulf/Turkish/Qatar | Paris | Tehran | Shiraz | Mashad |
| Qatar | Pucket | ***** | Mashad | ***** |
| Emarates | Perth | Tehran | ***** | ***** |
| Gulf/Emarates | Peshawar | Tehran | Shiraz | ***** |
| Turkish | Podgorica | Tehran | Mashad | Tabriz |
| Turkish/Emarates | Prague | Tehran | Mashad | Tabriz |
| Turkish | Pristina | Tehran | Mashad | Tabriz |
| Gulf/Emarates/Qatar | Riyadh | Tehran | Shiraz | Mashad |
| Turkish | Riga | Tehran | Mashad | Tabriz |
| Turkish/Qatar | Rome | Tehran | Mashad | Tabriz |
| Emarates/Etihad | San Francisco | Tehran | ***** | ***** |
| Gulf/Emarates/Qatar | Sana'a | Tehran | Shiraz | Mashad |
| Turkish/Emarates/Qatar | Sao Paulo | Tehran | Mashad | Tabriz |
| Turkish | Sarajevo | Tehran | Mashad | Tabriz |
| Emarates/Qatar/Etihad | Seoul | Tehran | ***** | ***** |
| Emarates | Seychelles | Tehran | ***** | ***** |
| Emarates/Qatar | Shanghai | Tehran | ***** | ***** |
| Jazireh | Sharm El Sheikh | ***** | Mashad | ***** |
| Turkish | Simferopol | Tehran | Mashad | Tabriz |
| Turkish/Emarates/Qatar | Singapore | Tehran | Mashad | Tabriz |
| Turkish | Skopje | Tehran | Mashad | Tabriz |
| Turkish | Sofia | Tehran | Mashad | ***** |
| Etihad | SouthHampton | Tehran | ***** | ***** |
| Turkish | St Petersburg | Tehran | Mashad | Tabriz |
| Turkish | Stockholm | Tehran | Mashad | Tabriz |
| Turkish | Stuttgart | Tehran | Mashad | Tabriz |
| Emarates/Etihad | Sydney | Tehran | ***** | ***** |
| Qatar/Etihad | Sylhet | Tehran | ***** | ***** |
| Turkish | Tbilisi | Tehran | Mashad | Tabriz |
| Qatar/Etihad | Thiruvananthapuram | Tehran | ***** | ***** |
| Turkish | Tirana | Tehran | Mashad | Tabriz |
| Emarates/Qatar/Etihad | Tokyo | Tehran | ***** | ***** |
| Turkish/Emarates | Toronto | Tehran | Mashad | Tabriz |
| Etihad | Townsville | Tehran | ***** | ***** |
| Turkish/Emarates/Qatar | Tripoli | Tehran | Mashad | Tabriz |
| Turkish/Emarates/Qatar | Tunis | Tehran | Mashad | Tabriz |
| Etihad | Tuscon | Tehran | ***** | ***** |
| Turkish/Emarates | Venice | Tehran | Mashad | Tabriz |
| Turkish/Emarates/Lufthansa/Qatar | Vienna | Tehran | Mashad | Tabriz |
| Turkish | Warsaw | Tehran | Mashad | Tabriz |
| Qatar | Washington | Tehran | Mashad | ***** |
| Turkish | Zagreb | Tehran | Mashad | Tabriz |
| Turkish/Emarates/Qatar | Zurich | Tehran | Mashad | Tabriz |